Wedding Disco & DJ Hire Packages
A LITTLE INTRODUCTION
Firstly, a big congratulations to you if you have just got engaged and are starting the process of planning your wedding. Some say planning your wedding is planning the biggest party of your life.
"Guests rarely remember how nice the venue decor was or how delicious their meal was. What your guests will really remember is how much fun they had at your wedding!"

If you want a Wedding DJ that can not only collaborate with you to curate the ultimate playlist, but can also do more than just fading songs into each other...then look no further. I mix it up, layering 2 or more tracks together, dropping in samples of upcoming songs, adding in hot mashups, blends, bootlegs, and remixes - all perfectly beat matched and in key.
"Ready To Start Planning The Party Of Your Life?"
** FIRST WATCH THE VIDEO BELOW **
~~~
PS. Don't forget to checkout my sample mixes!!
WEDDING PACKAGE STANDARD ITEMS
Dance floor lighting including Sea Of Hearts First Dance and a full set of wedding themed gobos in each moving head fixture. Think hearts, stars, butterflies, flowers, bubbles, confetti etc. flying around the room in time with the music.

Modern and reliable disco lighting setup, customised per venue / event. I only buy the leading brands that you can trust won't let you down on your wedding day! I also implement full redundancy in all critical areas - dual identical laptops, dual controllers, dual video cameras, extra mics, cabling, batteries, cabling, powerpacks etc.

Professional Audio System for crisp clear sound.

Online Event & Music Planner including detailed planning forms and full online Playlist creator with ability to  Import Playlists from Spotify.

Extensive, collaborative planning including initial consultation either in person or via video call, followed by as many additional video calls as you need in order to finalise all details and music. This is in addition to standard email and phone communications.

Experienced, smartly dressed, professional DJ who will keep your guests dancing and enjoying the music all night long.

Use of a wireless microphone.

A 50 track personalised playlist for your evening disco.

Legally binding contracts signed by all parties for your added peace of mind.
All equipment is fully PAT Tested annually and we also carry £10,000,000 Public Liability Insurance.
FEATURED WEDDINGS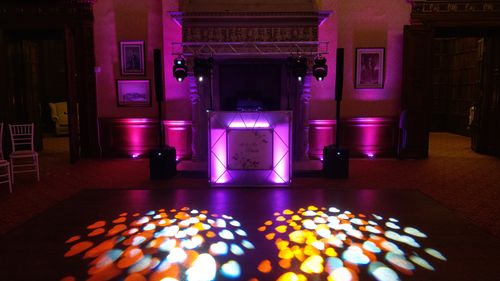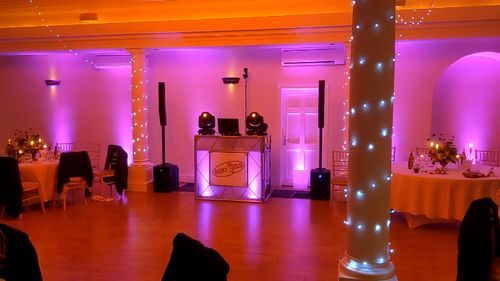 WHAT MY WEDDING COUPLES SAY
"

DJ Ricky Gold was DJ for my wedding earlier this year and was absolutely brilliant. He made the music completely stress free from beginning to end: meeting with us beforehand to go through our song choices, sending over samples of his mixes, ensuring he knew the layout of the venue so he could set up and dismantle with no issues - all the small things that you might not have thought of (especially when there is a fair amount to think about for a wedding!), Ricky had. Very on the ball and a fantastic DJ. Highly recommend. :) Thanks so much Ricky for being part of our special day!" - Hannah Harvey recommends DJ Ricky Gold
— Wedding at Durlston Castle, Swanage
"

What can I say about DJ Ricky Gold, professional from the start of our journey and right til the end. Every question we asked, we had a detailed response. Our Acrylic design was stunning it really made it about us from a DJ set. Ricky recut out first dance track which was unexpected but very much appreciated. I would highly recommend Ricky you will not be disappointed. Reach out to Ricky for a chat about what you want and I am sure he will surpass any expectations you have. I really can't thank you enough, I would use him for any event where a DJ is required. Thank you Ricky." - Justin & Hollie recommended DJ Ricky Gold
— Wedding at Greenwood Grange, Higher Bockhampton
"

He was amazing from start to finish, great video call at the very beginning to see what sort of thing we were after. You can pick songs / add songs from Spotify and put them onto his website. He then makes a playlist for you. It was a very wet and windy day but everyone loved him. Very easy to contact and happy to help nothing is too much to ask. Top man and a great DJ. Great choice of lighting happy to add different things to make your evening even better but not pushy / trying to get you to have everything he has to offer. Overall he was amazing, arrived in good time set up was quick. You can even get a personal board to go on the DJ booth. Me and my wife loved this idea and at the end of the night it's yours to keep! Thanks for everything," - Jonathan & Kayleigh recommended DJ Ricky Gold
— Wedding at Longthorns Farm, Wareham
PHOTO BOOTHS & ADD-ONS (FULL DESCRIPTIONS)
Capture Fun Memories With A Personalised Selfie Photo Booth
NEW FOR Summer 2023 !!

There are 2 Photo Booth options available (see below).

1/. Photo Booth Sharing Station With Digital Stickers & AI Scene Selection
Good if you have a large garland, flower wall etc. or space is limited.
2/. Photo Booth With Backdrop & Physical Props
This is the ulitmate option if space is availabe for the Backdrop and Photo Booth to sit out in the middle of the dance floor / free space etc.
---
This simple, space saving photo station is both popular and a lot of fun. It's perfect if space is tight at your venue and you still want to add an extra element of fun and excitement. 
Guests simply walk up to the station, select if they want to create a digital photo layout, GIF, or Video. After that, the photo station does the rest through some simple taps of the touch screen! About 5 seconds later, you can enter your mobile phone number or email address and the photo station will send over the output to the person who just used it! 
Last but not least, it will also create a web page where all of your guests will be able to access all of the fun stuff that is happening as it does live updates after each photo station visit! 
Venue Wi-Fi is required. Website will stay live for limited time (several weeks) after the date of your event. 
PLEASE NOTE : These are a digital solution only and do not produce actual physical prints.
THE BOOKING PROCESS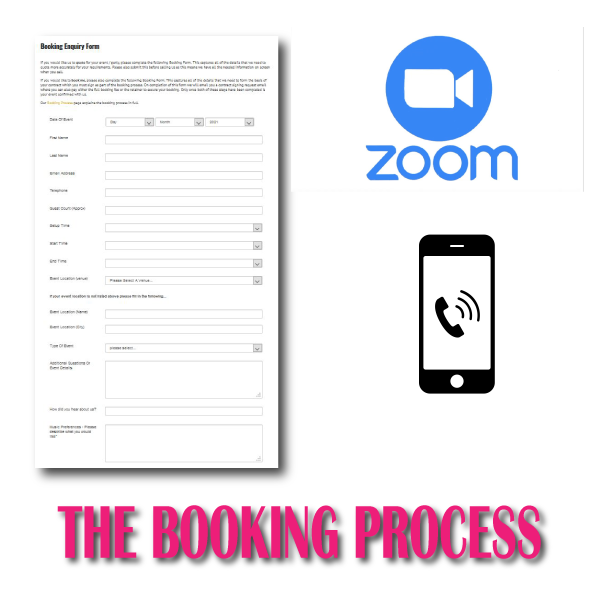 Fill out a Booking Enquiry Form, call, text, email or message us.

We will contact you to schedule a Zoom video call or face-to-face meeting to discuss your requirements.

We then send you a written quotation with a full breakdown of services and costs.

We hold your date for 7 days so you have time to digest.

You confirm back if you wish to book and we send you a contract to digitally sign.

You sign the contract and pay a date retainer fee to secure your booking.

You can plan your wedding collaboratively with us, including your music playlist, using our dedicated client portal.

The remaining balance is due 2 weeks before your wedding.
Our Booking Process page explains the booking process more fully. Please review this for detailed instructions.