Here are a few of my reviews posted on social sites such as my Facebook Business Page, my Google Business Page and more... They are ordered chronologically newest first, oldest last.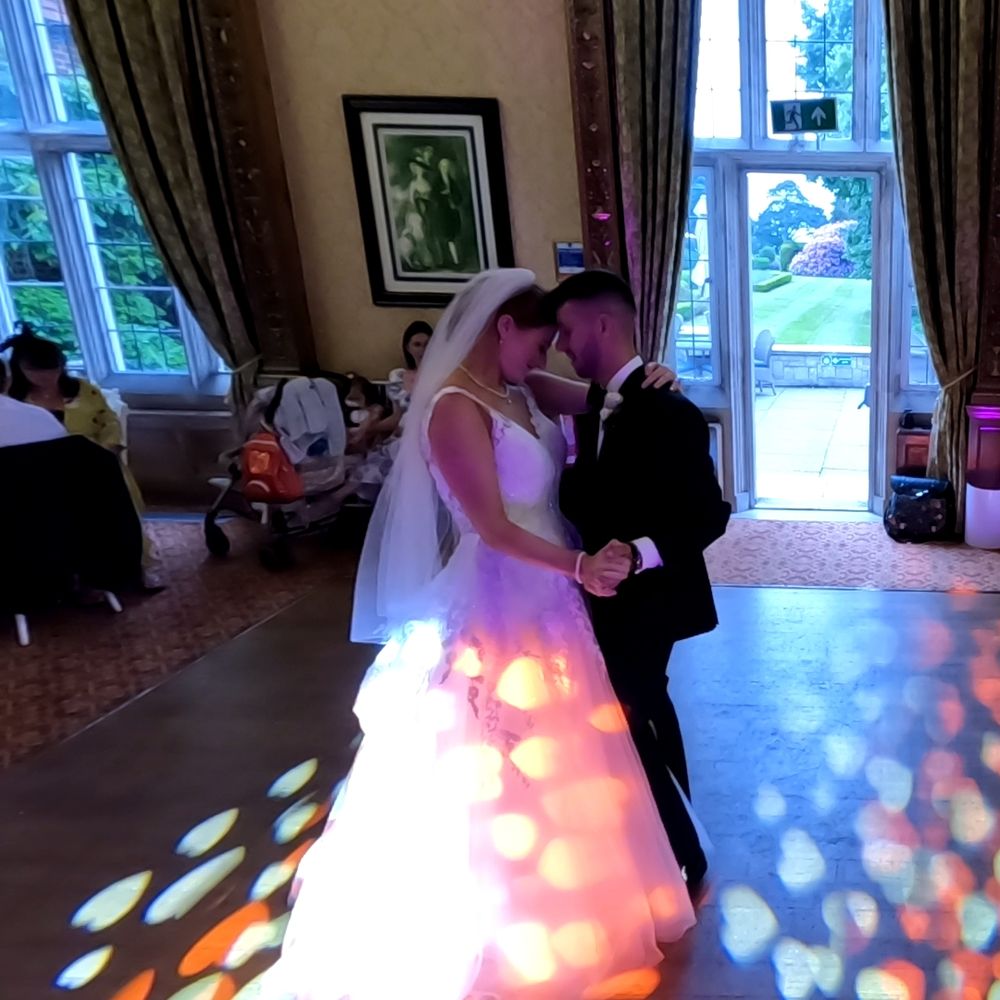 Deanna & Josh recommended DJ Ricky Gold
Wedding at Macdonald Elmers Court Hotel & Resort
Review [1 of 2]:
"We hired DJ Ricky Gold for our wedding on the 4th June. He listened to everything we asked for and even more. Incredible night and we will never forget it! Very punctual and professional throughout the time of hiring all the way to the big day! We will defo be using his services again 10/10!!"
Review [2 of 2]:
"Fantastic Service! From start to finish he was professional. Read the crowd well and dealt with any issue professionally. Stayed till the end and is very passionate about what he does. Very nice guy and couldn't of asked for a better DJ for our wedding day!"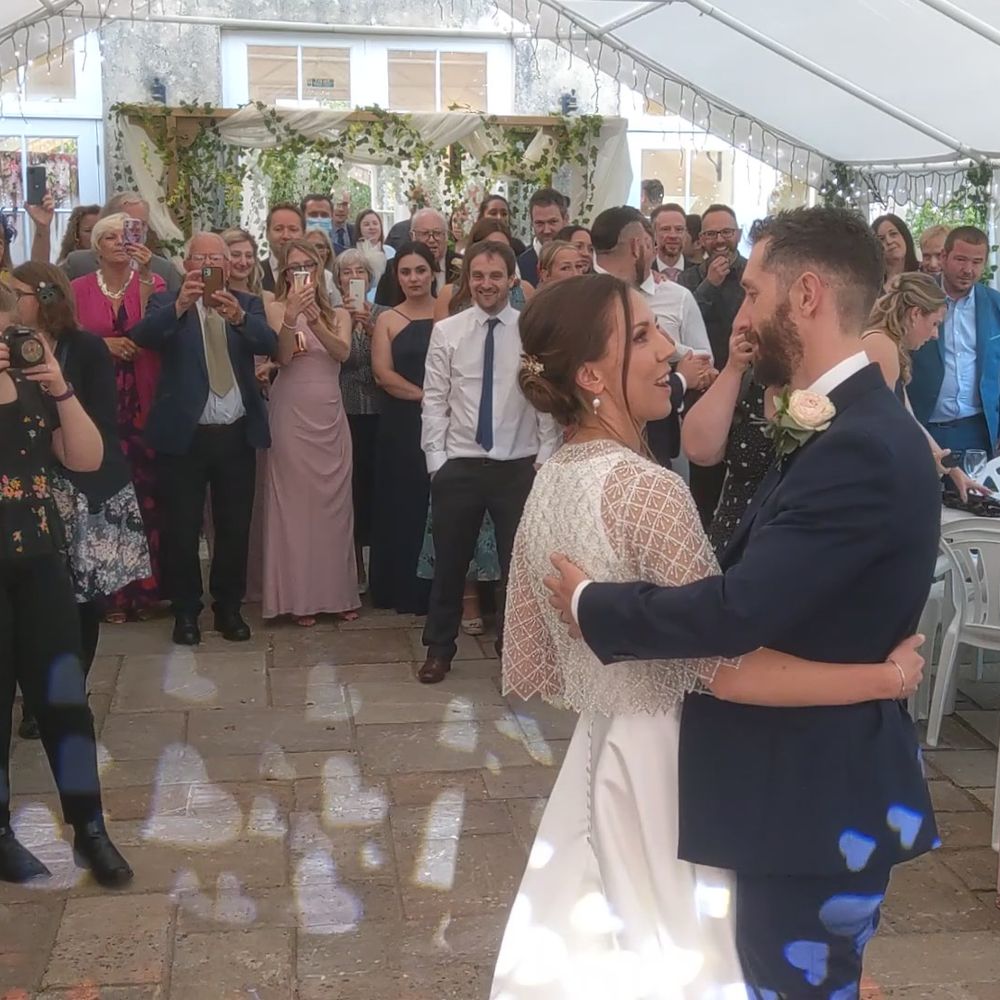 Tia & Graeme Post Event Thank You Card
Wedding at Hethfelton House, Wareham
"Thank you for helping make our wedding celebration so much fun!
We enjoyed our party and everyone had so much fun on the night.
We appreciated your support and advice throughout.
It was great working with you!

Love, Tia & Graeme"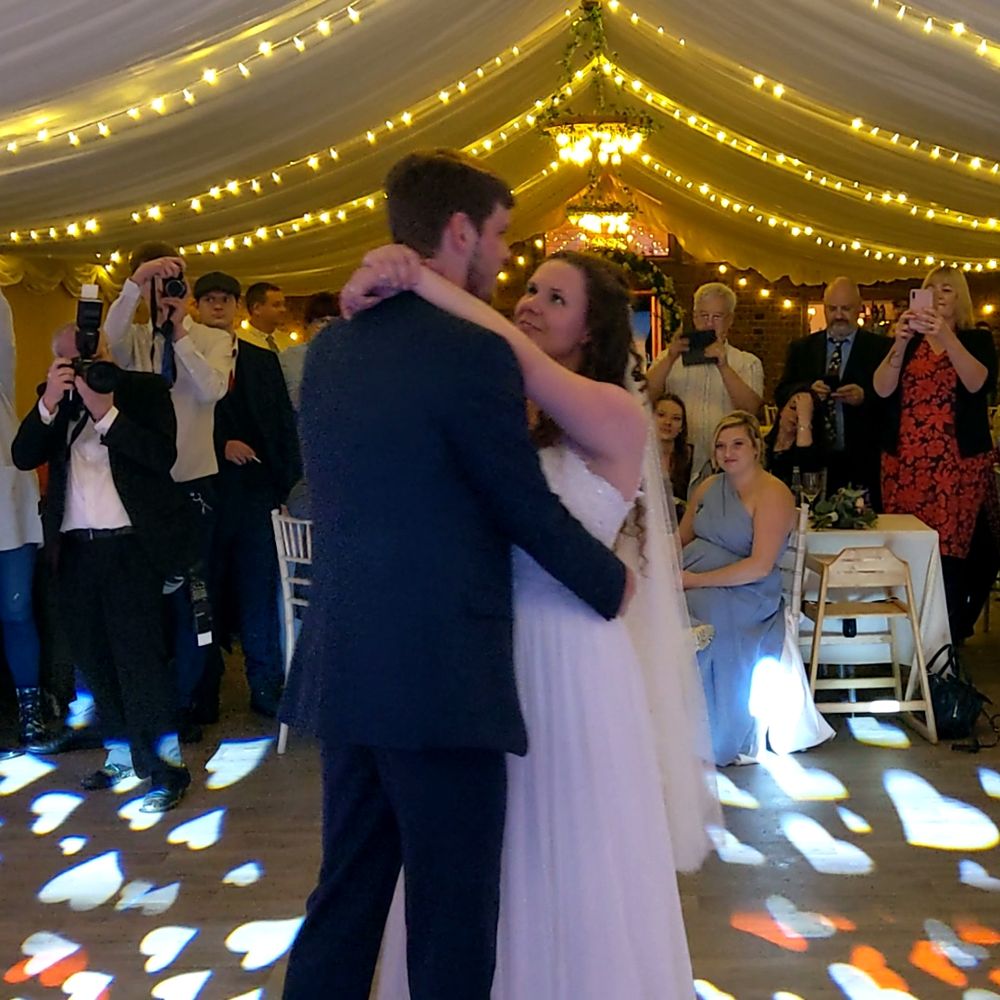 Jonathan & Kayleigh recommended DJ Ricky Gold
Wedding at Longthorns Farm, Wareham
"We used DJ Ricky gold for our wedding at Longthorns Farm in Wareham on the 2/10/21 he was amazing from start to finish, great video call at the very beginning to see what sort of thing we were after.
You can pick songs / add songs from Spotify and put them onto his website. He then makes a playlist for you.
It was a very wet and windy day but everyone loved him. Very easy to contact and happy to help nothing is too much to ask. Top man and a great DJ.

We did say we didn't like cheesy songs so wanted him to avoid them as much as possible. But apparently some of the guests love that sort of thing so he was adding a few in the mix to keep everyone happy. But again he didn't go to crazy knowing it's not our thing.

Great choice of lighting happy to add different things to make your evening even better but not pushy / trying to get you to have everything he has to offer.

Overall he was amazing, arrived in good time set up was quick.

You can even get a personal board to go on the DJ booth. Me and my wife loved this idea and at the end of the night it's yours to keep!

Thanks for everything,
Love Kayleigh and Jonathan"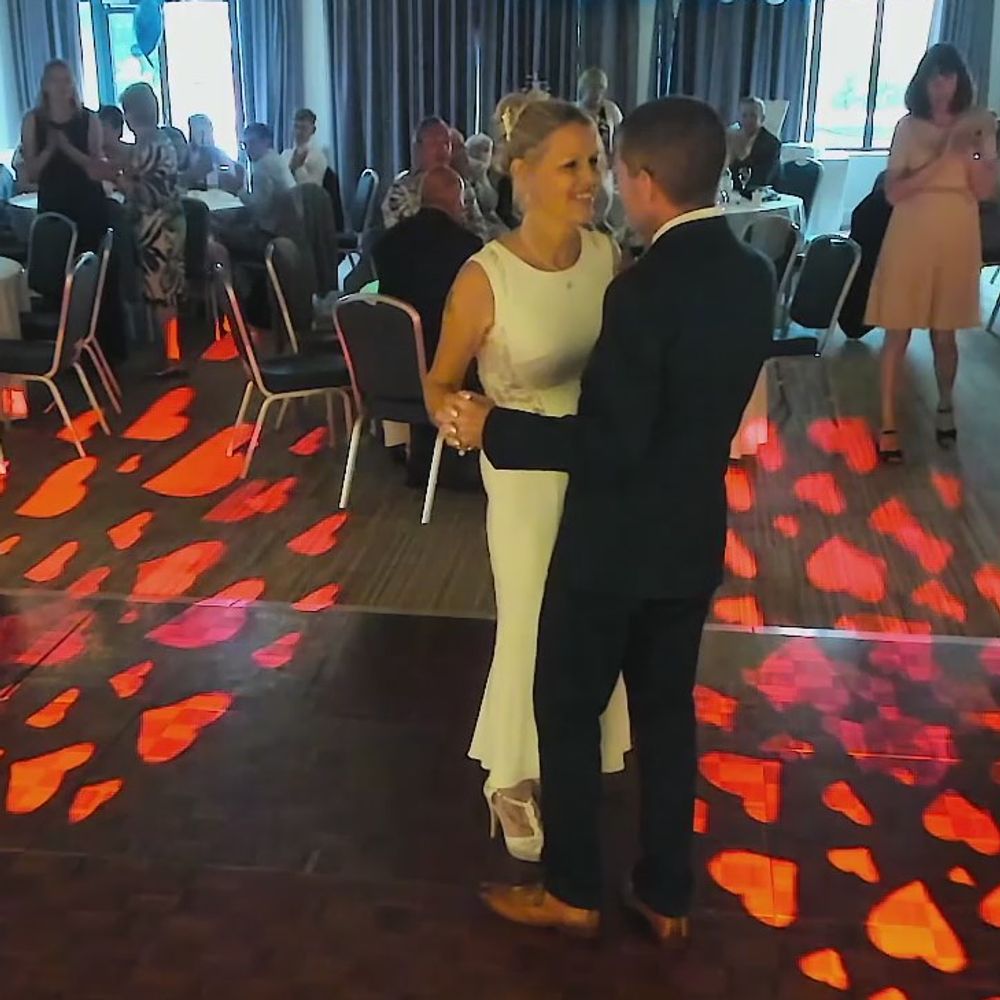 Shelley M reviewed DJ Ricky Gold
Wedding at RNLI College, Poole
"DJ Ricky Gold was booked at very last minute for our wedding at the end of July and he was able to create a wonderful evening which we and all our wedding guests, enjoyed very much.

It was the party we had all been waiting for and marked the end of lockdown in style 😊"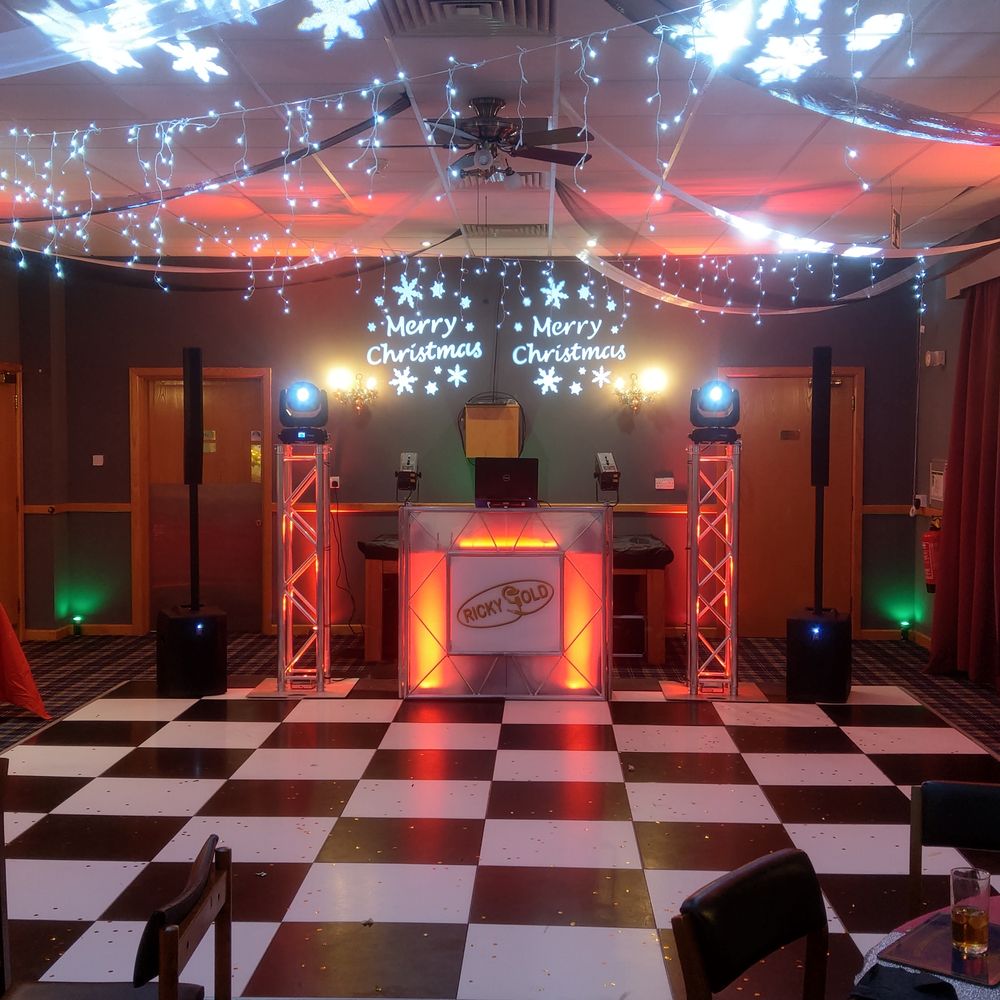 Adam Fell recommended DJ Ricky Gold
Corporate Event, Dorset
"I hired DJ Ricky Gold to play at my works Christmas function. He arrived in plenty of time and was very well dressed and presentable for the occasion. He played a playlist of mixed varieties that were requested prior to the evening.

He checked in via phone-call a week before the event to ensure that everything was ok and to see if we had anymore requests. I mentioned a few things and even though he had not played that specific genre before he still managed to put it into his set.

Above all I would hire DJ Ricky Gold again in a heart beat as he can read the room and cater to the mood of the crowd very well, and keep the party going and people enjoying themselves.

Thank you very much for an outstanding evening."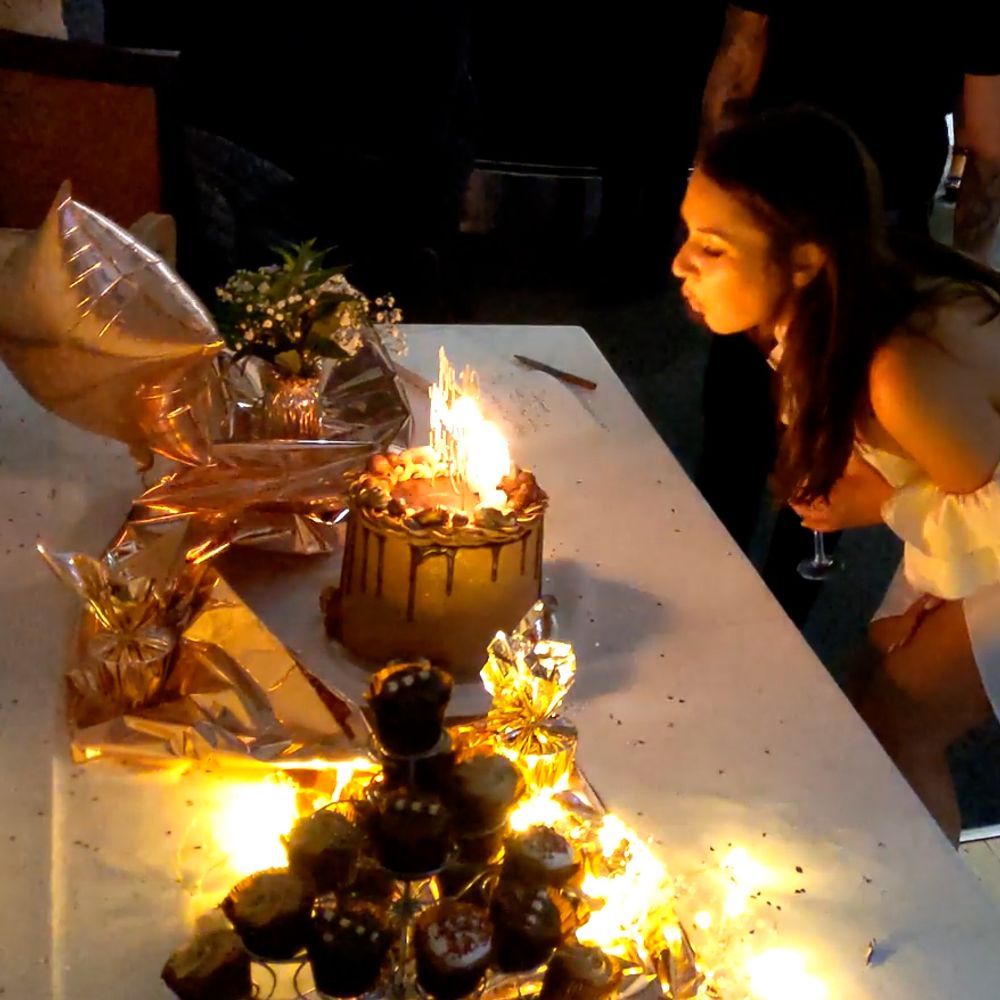 Bekki B recommended DJ Ricky Gold
30th Birthday at Playgolf, Bournemouth
"We booked DJ Ricky Gold for my 30th birthday party and all my guests and myself had the best evening.

When we arrived at the venue he was already there and set up, so we didn't have to worry about anything.

Ricky was a great DJ from start to finish and read the room and knew exactly what to play. He was very professional and called me a week before the event and spoke about the different song choices and timings of the evening.

I was able to supply a playlist of the songs I wanted played throughout the evening and from that Ricky was able to create a whole playlist with the same style songs, as well as taking requests too!

Ricky filmed the dance floor and took pictures which was lovely to then be able to play back after the event and he has even created a video from all the clips he took on the evening and sent that over which was absolutely brilliant!

I would highly recommend DJ Ricky Gold for any party or event."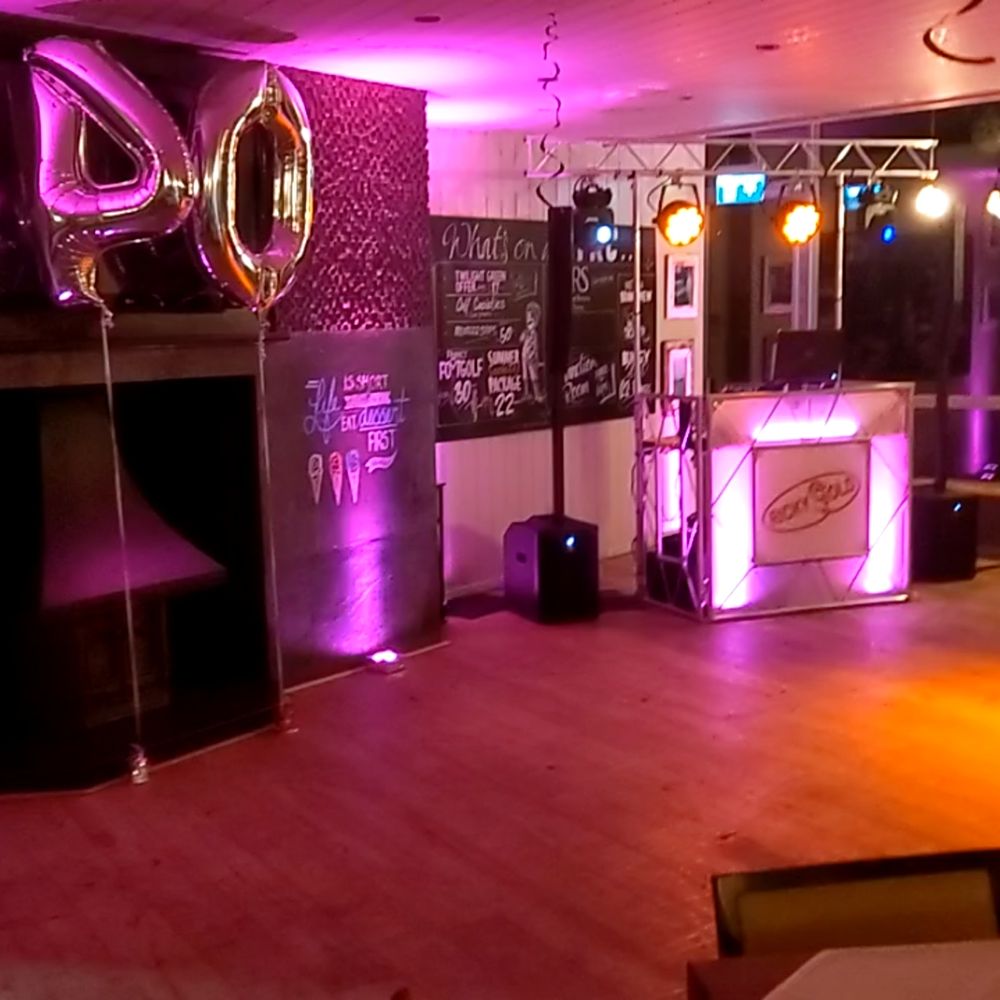 Laura Curtis recommended DJ Ricky Gold
40th Birthday Party Playgolf, Bournemouth
"Ricky Gold understood our 1920s Electroswing party theme and liased with us to ensure the evening was a success. Nothing was too much trouble. We were very happy with the music and lights set up. Highly recommend."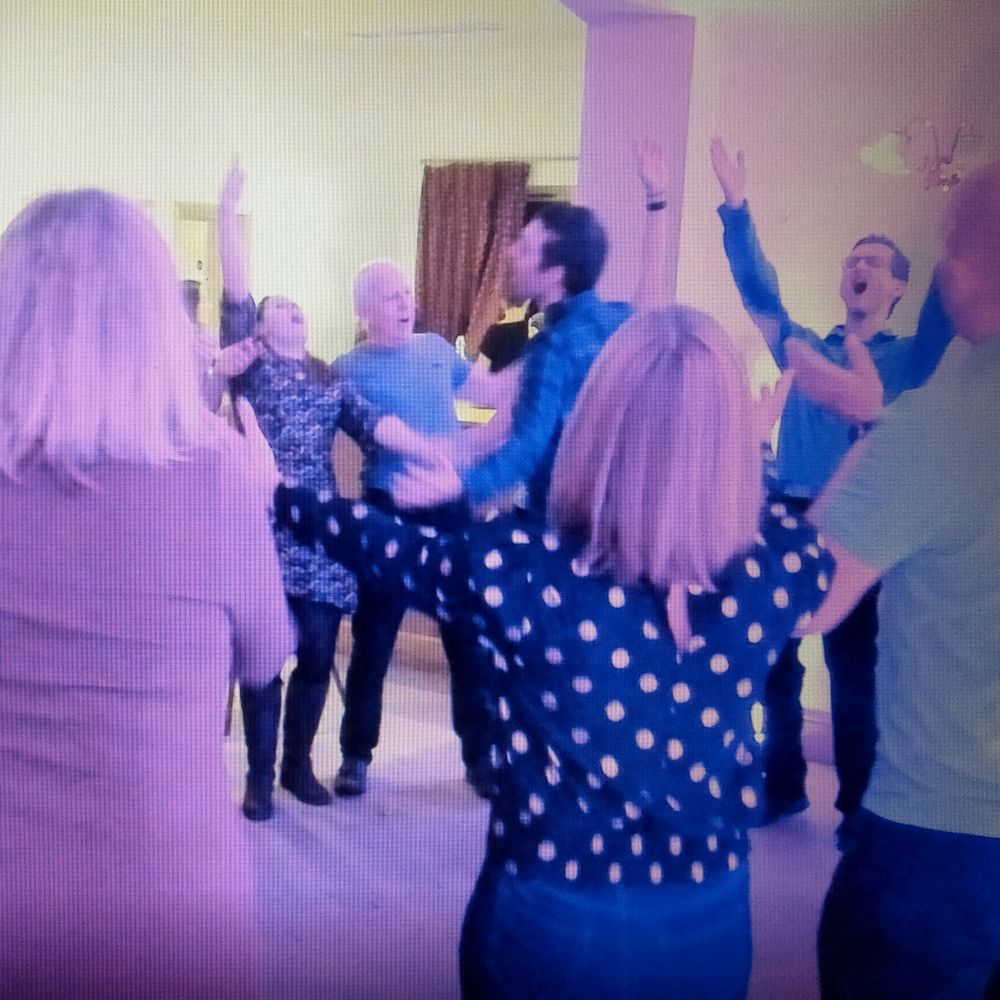 Sharon B recommends DJ Ricky Gold
30th Birthday at Emperess Of Blandings, Romsey
"Great DJ everyone was dancing all night long!.
Ricky was fantastic. His website helped to plan the perfect event and communication was excellent.
The evening went really well and the music suited the audience who thoroughly enjoyed themselves.
Would highly recommend."